Aufgaben zu biomechanischen Grundlagen der OT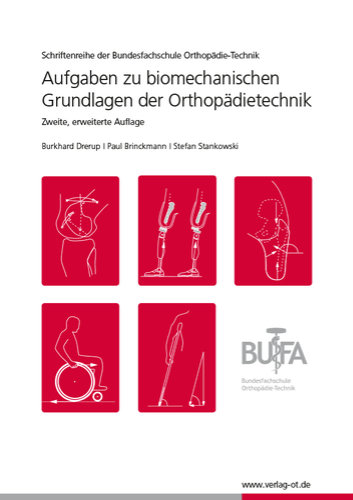 Biomechanik? Kein Problem!
Darf man die Kräfte aller Muskeln, die die Streckung des Rückens bewirken, zu einer einzigen Muskelkraft zusammenfassen? Darf man die mechanische Wirkung einer Druckverteilung im Schaft einer Prothese durch die Wirkung einer einzigen Kraft ersetzen?
Diese und viele weitere Fragen zur Biomechanik beantwortet Ihnen dieses praktische Aufgabenbuch. Zur Auffrischung und Erweiterung Ihrer Kenntnisse behandeln die Aufgaben mechanische Größen wie Kraft, Druck, Drehmoment, Schwerpunktlage, Geschwindigkeit und Beschleunigung, jeweils anhand von Beispielen aus der Orthopädietechnik. Die Anforderungen an die mathematischen Vorkenntnisse sind dabei gering.
Alle Aufgaben sind mit ausführlichen Anleitungen zur Lösung versehen, um Ihnen die Einarbeitung in die Methoden und Gedankengänge der Biomechanik zu erleichtern.
Titel: Aufgaben zu biomechanischen Grundlagen der OT
Autor: B. Drerup/P. Brinckmann/S. Stankowski
Seitenzahl: 150

ISBN: 978-3-9813221-7-0
Hier erhältlich:
Bundesfachschule für Orthopädie-Technik
Schliepstraße 6-8
Telefon: 0231 55 91 0
zentrale@ot-bufa.de

---
Rollstuhl-Versorgung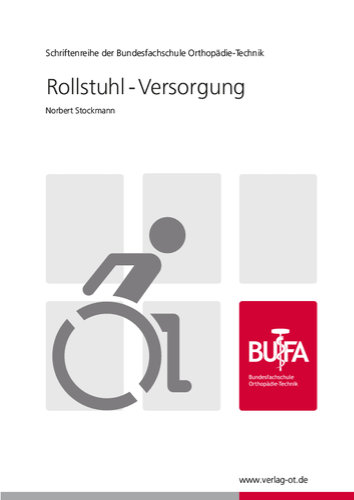 Schriftenreihe der Bundesfachschule für Orthopädie-Technik mit Schwerpunkt "Rollstuhl ‑Versorgung"
Das federführend von Norbert Stockmann, OTM konzipierte Heft richtet sich an interessierte Leserinnen und Leser aus den Fachgebieten Orthopädie-Technik, Reha-Technik, Reha-Fachberatung sowie Ergo- und Physiotherapie mit Schwerpunkt in der Anpassung von Rollstühlen. Es vermittelt einen Überblick aller Aspekte der Rollstuhl-Versorgung unter Berücksichtigung des aktuellen Diskussionsstandes.
Eingeleitet mit einem Kapitel zur Physiologie und Pathophysiologie des Sitzens inklusive Basisinformationen zur mechanischen Beanspruchung der Gewebe werden darüber hinaus die Produktspezifika, Technik und Fahreigenschaften von Rollstühlen sowie Rollstuhlkomponenten behandelt. Eine Darstellung der Rollstuhlbemaßung und Hinweise für indikationsspezifische Anpassungen runden die Veröffentlichung ab.
Titel: Rollstuhl-Versorgung (Print)

Autoren: Norbert Stockmann
Seitenzahl: 55
ISBN: 978-3-948119-10-2
Hier erhältlich:
Bundesfachschule für Orthopädie-Technik
Schliepstraße 6-8
Telefon: 0231 55 91 0
zentrale@ot-bufa.de

---
Biomechanical Basics of Orthopedic Technology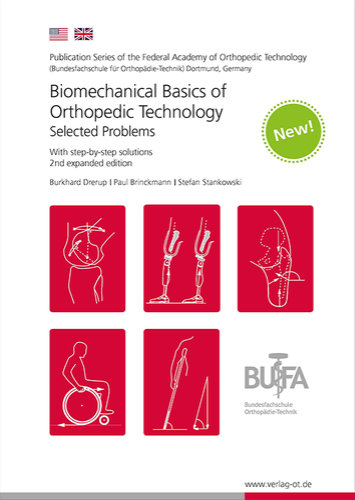 Biomechanics? No problem!
Is it permissible to pool the forces of all muscles effecting the extension of the back into one single muscle force? Is it permissible to replace the mechanical effect of pressure distribution in the socket of a prosthesis by the effect of a single resultant force? Can the internal energy production of the body when wearing prosthetic devices be quantified?
Answer to these and many other questions relating to biomechanical aspects of orthopedic technology are presented in this practical collection of exercises. To refresh and broaden your knowledge, the problems address mechanical topics such as force, power, pressure, stress, moment, center of mass, velocity and acceleration using examples from the field of orthopedic technology.
The mathematical backround knowledge required is nominal. All problems are complemented by detailed instructions for solving in order to facilitate training while at the same time providing insight into the line of reasoning of biomechanics.
Title: Aufgaben zu biomechanischen Grundlagen der OT
Author: B. Drerup/P. Brinckmann/S. Stankowski
Number of pages: 150

ISBN: 978-3-9813221-8-7
Available here:
Bundesfachschule für Orthopädie-Technik
Schliepstraße 6-8
Telefon: 0231 55 91 0
zentrale@ot-bufa.de